Fred in Texas Weekend 2005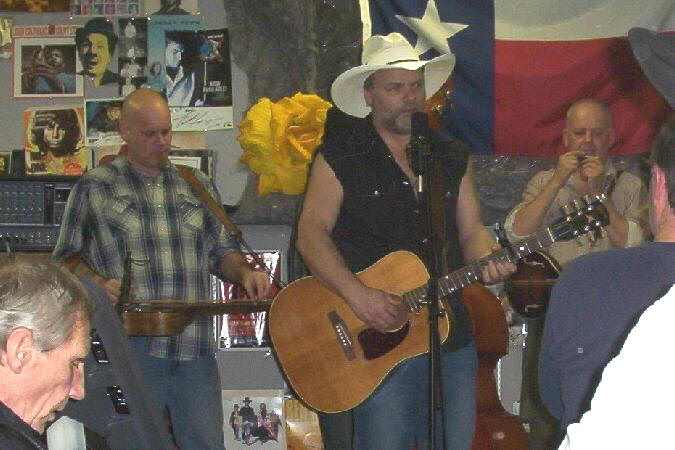 Fred at Bill's Records on March 6, 2005
What an awesome time Andy and I had on our jaunt to South Texas for the 2nd Annual Fred Eaglesmith Texas Weekend! Many thanks to Tracie Ferguson and to Mike Thompson for all the hard work that led to an absolutely phenomenal, relaxed, fun weekend! I was "privy" several years ago to the conversations and ideas regarding the formation of the weekend even happening in Texas, and I have to say that along with Fred's management, Tracie's commitment to form, shape, and continue those ideas really mean a lot to those of us who had a stress-free, music filled, fantastic time again this year.
For Andy and me, the appetizer to the weekend was Sunday, March 6 with a trip to Dallas for both a gig at Bill's Records and a concert at the Sons of Hermann Hall. Both shows were great fun, and were separated by a leisurely dinner and margaritas with Bobby and Juliea Wilbanks at El Chico. It had been so long since we'd really been out, what a great way to get things rolling before our getaway!
Our journey truly began on Thursday, March 10. We dropped the kids off with Pops and B, filled up with gas, and headed on down the road just after 9:30 a.m. Andy and I were headed to Waco, for lunch with our buddy James Odom from the Billy Joe Shaver list. We don't get to see him often, so when we're heading south we usually try to see if we can meet up with him. We stopped at Trujillos, a good little Mexican restaurant just off I-35, and got to have a wonderful visit with our old friend. I swear time flew, and before I knew it, we were back on the road again.
We decided to make a couple of stops in the town of Salado. Our first was to a roadside place called Robertson's, for some jerky and jalapeņo sausage. After a quick stop at Sonic for a drink, we looped around and visited some of the little shops located right on the highway. Nothing too elaborate, just interesting rustic furniture, gift shops, and an artist's gallery. I finally felt like we were really going to relax.
Moving on, we headed to New Braunfels and Gruene to find our Bed and Breakfast, home to us for the next several days. After driving around Gruene for a while, we called my "San Antonio Sister" Rhonda and had her look up directions and phone number for the place. You'd think I would be wise enough to bring the directions with me..........but of course not! Boy, am I grateful for the internet and cell phones!
We finally arrived at the lovely Hunter Road Stagecoach Bed and Breakfast and were greeted by a big, sweet dog named Willie, and the sweet proprietress Bettina Messinger. She graciously gave us suggestions of places to see and dine, and showed us to the Bluebonnet Room, decorated with lovely antiques, clawfoot tub, a queen sized feather bed, and lots of quilts. It felt very homey. She also showed us the other room in the log cabin with a dog-run (or breezeway) dividing them. It was decorated with Antique Roses everywhere on almost everything. Very pretty, but it was a little flowery for me. We liked our room the best.
We unloaded our stuff, freshened up a bit, and headed into Gruene for dinner. We took Bettina's advice and decided to dine at the Gruene River Grille. We were pleased to find out it was owned and operated by the same folks who own the Clear Springs Cafe chain, one of our finds from last year! We dined on the largest mozzarella cheese sticks I've ever seen in my life, lemon chicken (much like a schnitzel), fried new potatoes and onions, green beans, fresh bread and her butter. It was fantastic.
After a quick stop to scope out Lone Star Music, we headed over to Gruene Hall for what was the beginning of our music filled weekend!
Thursday Night
Along with the great acts on Thursday night, the atmosphere was almost overwhelmingly "family reunion". It was time to reunite with all our friends and acquaintances, many of whom we hadn't seen in at least a year. Even though we settled into benches and tables, there were still many ups and downs and hugs and greetings throughout the evening.
Cold Lone Star Light beer in hand, we sat down and listened to the first performers of the weekend, the Roger Marin Band. Roger is a member of Fred Eaglesmith's band, but is a talented performer in his own right. Other members of his band looked very familiar. Darcy Yates and Kevin Komatsu, both formerly of Eaglesmith's band, and Dan Walsh, still in the band, really added to Roger's talent. For a Canadian, he writes very similar to Texas singer/songwriters. It's just those occasional words with a strong Canadian accent that gives him away.
The McKay Brothers were next up. I was anxious to see these Bandera County boys after hearing great things about them from Tom Geddie, writer for Buddy Magazine and various other publications. They did not disappoint. These boys are storytellers, and are very good at their craft. We'll look forward to seeing them again in or around Dallas/Ft. Worth. I'd highly recommend anyone who gets the chance to go see them.

The next performer........well, I must confess. I was already very partial to. I was nearly on my feet clapping already as Mike Thompson ( emcee extraordinaire for the evening, and co-coordinator for the weekend!) introduced Australian singer songwriter Audrey Auld Mezera. I am honestly not known for being the number one fan of female singers, but Audrey is one of the few who I totally enjoy. Her vocals are wonderful, but her songwriting is even more extraordinary. And when she picks "covers", she tends to choose from artists I too adore. Her performance this night was so much fun, and just wonderful. She was accompanied by Gabe Rhodes, who co-produced her new CD "Texas" with her. It was fun talking with friends later who hadn't heard her before, and enjoyed her maybe as much as I did. She did several songs off her new CD, "Texas" (great title choice, I might add!) and I knew this was one that I would add to my collection this weekend. Audrey did a great show, and I was even more excited about seeing her again on Saturday afternoon.
Next up was another of my favorites, discovered quite by accident a few years back. One night, Bad Andy and I decided to go to Love and War in Texas in Plano, and had not heard of the performer, Mark Jungers. Well, we sat down, and within moments realized how great Mark and his band were. A few songs in, he played a cover of Fred Eaglesmith's "Benchseat Baby" and rocked the place! When he later spotted me in a Vermont Eaglesmith Weekend t-shirt, I think he was as excited as we were that we loved some of the same music. Tonight, as always, Mark was at the top of his game. Accompanied by Adrian Schoolar, the audience was blown away with the incredible talent and awesome music! I loved seeing many of the folks around me who hadn't heard Mark before just being overwhelmed at how fantastic he was. Like with Audrey's performance, I felt like I was a proud Mama sitting in my seat saying, "yeah, that's my baby, see, that's my baby right up there knockin' yer socks off." I know I don't get credit for their talent and performances, but I sure am glad I've loved 'em for a long time already!
The final performer of the evening was a Canadian, Andrew Walker. Now honestly, I was already done for the night in my book. Great music start to finish, and I didn't recall ever having heard of this guy. Man, was I in for a great surprise. He was incredibly good. Bad Andy especially liked his music. It was lots of fun when he unplugged his guitar and walked around on tables and benches, playing and singing to us all. I'm going to reserve my comments on the doting fan, other than I think it's a shame sometimes hard core fans don't realize that they are impeding the performance. Anyway, we'll be watching for this guy, and I recommend you do too!

We said our goodbyes, and headed back to our B&B for some sleep.
Friday of the Texas Fred Weekend
Saturday of the Texas Fred Weekend
Sunday/Epilogue of the Texas Fred Weekend